Foundations
Wiki
Raghava Lawrence Foundation Phone No, Charitable Trust Address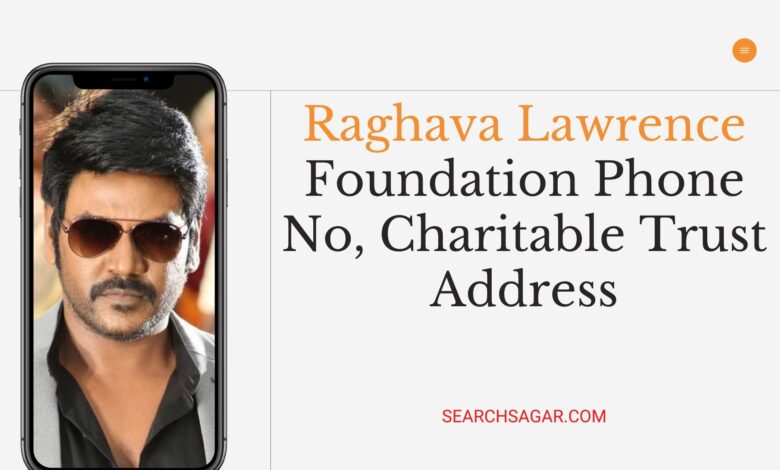 Trust Name:
Raghava Lawrence Trust
Category:
Trust, NGO, Charitable Trust, Foundation
Raghava Lawrence Foundation Phone Number:
044 4215 4541
Raghava Lawrence Trust Mobile Number:
+91 9962243647, 9790750783, 9790750784, 9791500866
Raghava Lawrence Trust Contact Address:
No.2, 4, 1st Cross St, 3rd Avenue, Ashok Nagar, Chennai, Tamil Nadu 600083
Larencce Trust Email Id:
larenccecharitabletrust@yahoo.com
Twitter Handle:
twitter.com/offl_lawrence
Facebook Fan Page:
facebook.com/offllawrence
Raghava Lawrence Trust
About:
It is a voluntary organization located in Chennai, Tamil Nadu. Raghava Lawrence's trust mission is to reach out to all the charitable activities to the orphans, differently-abled, abandoned children by providing education, medical, livelihood support so that they can achieve their dreams regardless of age, caste, sex, creed, etc.
Lawrence Charitable trust renowned chairman Mr. Raghava Lawrence, well-known director, actor, choreographer of the south film industry who has committed himself towards social work for the upliftment of economically, socially and physically challenged people who are below the poverty line and therefore,  he has been trying his best to provide various help to achieve trust objective.
Education help for Differently abled:
Raghava Lawrence charitable trust provides education help to 19 disabled people who all are interested in various courses i.e. Msc, IT, B.E., BSc, and B.com, computer science, and various other courses, therefore, including paying School/ Tuition fees and other needs that are needed for higher Education. Hence, the Foundation provides education help to all the differently-abled people so that they can achieve their dream and become what they want to.
Dance Training for Differently Abled:
Raghava Lawrence foundation identified talent among physically challenged youth and people who are below the poverty line, who approached them for help. Raghava Lawrence himself took a keen interest in providing dance training and building self-confidence in themself. He trained them in dance since 2005 and it is still continuing. He also tried to provide rehabilitation centers to the youth and residential support and he transformed his home into a trust for the same cause. Therefore, the trust provides all the dance activities and it also boosts confidence in themself.
Medical support:
Raghava Lawrence foundation trust has been providing medical help to 29 physically challenged people whereas, 7 people are given Varma treatment and 22 people are given various Treatments i.e. Neurotherapy, Physiotherapy, Siddha, and spinal injury treatment and also this trust has extended his hands towards hearing impaired also by providing hearing aid machines. Hence, all the medical facilities are provided by the trust in their own expenses.
Home for Physically Challenged:
The Charitable trust has established a shelter home in Valasaravakkam, Chennai for 40 physically challenged people and the people who are below the poverty line. Raghava Lawrence trust is taking care of food, accommodation, medical expenses, education fees, and therefore, many other needs for their day-to-data survival. Moreover, this trust provides livelihood support to the disabled people in the villages of Tamil Nadu.
Raghava Lawrence Foundation Number and account details:
So, If you would like to extend your help and would like to donate some money in the name of Lawrence Charitable Trust,
Bank: Canara Bank
Branch: Ashok Nagar Branch
Account No.: 0975101046149 (For foreign donors, Swift Code – BOFAUS3N).
For any information, you can reach Raghava Lawrence Trust at 044-3253 6575, 99622-43647. (You can avail income tax benefit under sec 80G)