Business
Why Does My Small Business Need A Website?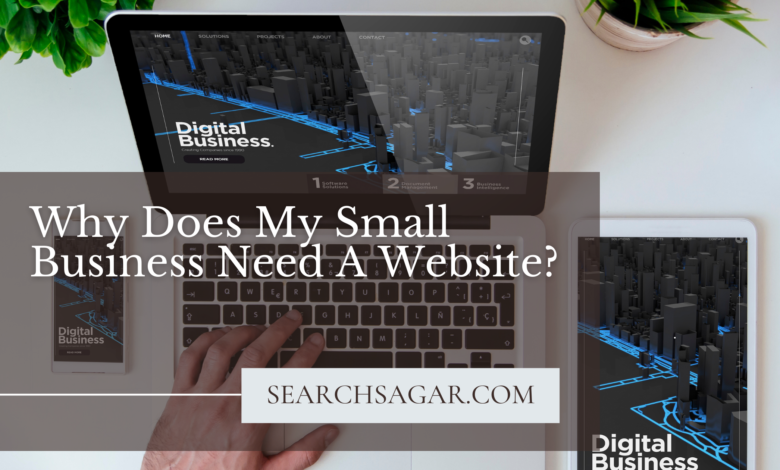 According to the research, only 51% of small and individual businesses have websites, even though 97% purchase online by searching for relevant products and services.
From the above statistics, it would be correct to say that your online presence can make or break your business.
It is worth mentioning that simply having a website is not necessarily enough. You should make sure your site has all the essential elements of successful websites, such as responsiveness, usefulness, interactivity, and the overall design of your website to stand apart from your competitors.
Now let's look at some of why businesses of any size, small companies, need a website and how it can take a business to the next level.
You May Also Like: Importance of Taking Your Business Online

A Website Brings Genuinely Interested Customers

Search Engine Optimization (SEO) is a great technique to bring customers interested in your products or services to your website. A solid online presence is possible only when you have an excellent website, and you make use of adequately done onsite SEO and submit your site to Google and Bing search engines. There is also much to be done once your website is finished. However, you can view our article for tips on what you should be doing after your website is online.
Having a search engine optimized website can give small businesses the ability to stand on equal ground with larger companies and make it possible to get a fair share of the market. Moreover, it is a cost-effective way of marketing as it is using your website content for you. The more unique and informative information you provide as content on your site, the better your chances of being found in search. The effects of this are often exponential, which is why it is sometimes better than paying for clicks with online ads.

A Website Gives You Competitive Advantage

More than 50% of the small businesses in the US do not have websites and thus will lose out on any potential online sales. However, with a website, you are already ahead of the game, and you have the opportunity to bring in new customers who are searching for products and services relevant to your business.

A Website Helps You To Build Credibility As A Small Business

In this modern era of technological advancement, simply being on social media platforms is not enough for a small business to get much out of online. Often social media accounts are harder to find on search engines versus a traditional website, and sometimes it can even be challenging to find your business inside the social media platform's searches. So instead, you must prove yourself more credible by linking your social media game with your website.
Maintaining your online presence only on a social media platform limits you because, a lot of times, your site will be able to do more custom tasks than a social media page will allow you to do. For example, offering advanced forms that can allow for booking or conditional responses. By having a successful website linked with your social media, you will start to see a synergistic effect that provides customers with an easier way to approach you and work with your business on your terms.
Hiring a designer will free up your time to work on your business instead of learning the proper techniques to design your site and get it listed in search results. The right design company not only increases the value of your website but also enhances your credibility and will allow you the freedom to grow your business and engage with your customers and your community.

A Website Educates Your Customers About Your Products & Services

Your website serves as an all-in-one platform where your current customers and potential new ones can find helpful content about your products and services. Moreover, they can enhance their overall knowledge about your business and what it stands for.
If you include a blog page on your website, you can post detailed educational information about your niche business. You don't have to limit yourself to just articles. However, you can also include infographics, white papers, videos, podcasts, e-books, and more. Your content offering is limitless, and your customers can even interact with your content and create an online community or forum.
Your content can also rank up on search engine results pages (SERPs). Your overall page rankings will increase if you focus on creating unique, engaging, and valuable information that tailors well to your target audience.
In this way, more and more people will come to know your business and your knowledge of your industry and expect that you will be providing high-quality services. Also, the better the quality of your content, the better your business will be perceived. As a result, this cost-effective content marketing solution increases your conversion rates without having to pay for each ad and click. Creating killer content is the key to success in this regard.

Greater Number Of Potential Customers & Opportunities

The ultimate goal of every business website is to increase revenue and generate more sales. Instead of only catering to customers locally, having an online offering and being able to ship or provide online services to that outside of your locale makes your potential customer base enormous.
A local business can become a national or even a global company by selling its goods and services online. Moreover, by creating a website, you will have a chance to get in touch with a more significant number of potential customers and gain more potential business opportunities. This point can be further strengthened by the fact that more than 81% of the small and individual businesses of the US agree that having a website has helped them grow their businesses considerably versus only being able to work locally.
Adversely, having a website is also a great benefit to your local sales because people who don't know about your business can find it in local search results. For example, when one searches for "Dog Groomers Near Me," if you have appropriately listed your website online for local SEO results, your site could come up at the top of results just by being close to that person's physical location. Local SEO, when done right, will make it hard for people NOT to find your business even if you don't list a physical location online.

A Website Expands Your Physical Location

The biggest problem that small businesses face is getting restricted to only one place or a location. As a result, only the nearby localities can directly reach out to them to get their products or services.
Small businesses can rank well in the local searches and enjoy greater levels of recognition when your onsite SEO and local SEO strategies have been implemented correctly. So when you have a website, you still operate from a single location. Still, more people (investors, manufacturers, consumers) become aware of your business and reach out to you when needed. You can even target your website to multiple specific locations without formal business addresses in those areas, or you can target a service area that applies to how far you will travel to service a customer.

A Website Is Crucial During the Pandemic

It is sad to think about, but whether it's a pandemic or any other global event that can restrict people's physical activities, a website becomes the only primary source to reach out to potential customers. Small businesses without websites will miss out on most opportunities during the pandemic and will be considered outdated. We never thought that this current situation we are in as possible, but we are all making do the best we can. If your small business is struggling and doesn't have an effective website or online strategy, please reach out to Prime Encode for help. They care about small business owners and will do everything they can to help you with their skillset.
Pro Tip!

Promoting your business or your website on social media now can bring more interested customers to your website than you might think, as more people are working from home to view these ads.
You Need Professional Services To Create, Design & Rank Your Website

Whether you are a local small business owner or a larger outfit, you need to seek the help of professional website designers in your local area. Having a professional website is crucial if you want to attract, convert, and retain clients. In addition, it will give you a competitive edge over those who built their website, or worse, have no website or online presence at all.