Travel
What To See At The Andaman Island, Cost & Transport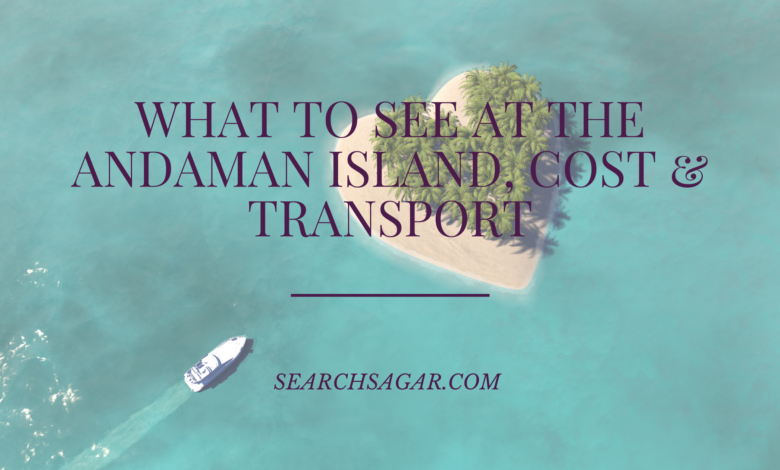 The Andaman Islands, located in the Bay of Bengal between India and Myanmar, make up a spectacular archipelago consisting of as many as 550 islands, densely covered by wet forests, rainforests and hundreds of exotic plants and animals.
Although the archipelago is closer to the coasts of Myanmar and Thailand, it belongs politically to India and only 28 of its islands are inhabited.
The remote location of these islands, over 1000 kilometers from the Indian and Burmese coasts, has allowed local populations, in turn, divided into significantly different ethnic groups, to preserve unique cultures and traditions over time.
In order to preserve these indigenous ethnic groups as much as possible, the entry of foreigners into the islands takes place through a permit called Restricted Permit Area – RAP, which allows access to specific areas of the archipelago, excluding for example areas where reserves are present tribal.
But let's get straight to the most interesting places to see in Andaman.
What To See At The Andaman Islands?
Once you've completed the entry formalities, it's time to find out what to see in the Andaman Islands, amidst lush forests, vast tropical beaches, and a turquoise-colored sea.
Port Blair, The Capital
Port Blair, in the Southern Andaman Islands, is the entry point for all visitors to the Andaman and Nicobar Islands and is also the administrative capital of the archipelago. Climb aboard one of the many tuk-tuks and take a close look at the life of this small capital.
One of the landmarks of Port Blair is the Cellular Jail, an ancient prison, now a National Memorial, where the British Empire mainly locked up and tortured political prisoners until 1947, when India gained independence.
Today this imposing structure, made up of tiny single cells (hence the name "cellular" prison), tells an important piece of history, through exhibitions and photo galleries, recalling the men who fought for independence. Do not miss the show during which the prison comes alive with lights and sounds to tell the story of its prisoners. A curious show staged every night in both Hindi and English.
Havelok Island
About 40 kilometers from the capital, Havelok Island is one of the must-see places on a trip to the Andaman Islands; here you will find a luxuriant nature that dominates uncontested and that leaves only space to splendid white sandy beaches from which you launch yourself towards a turquoise sea full of life. How to say no to such an island?
Once you arrive on the island, you can choose between the various beaches, more or less populated, including some very popular, like the one in Radhnagar Beach (or Beach Number 7), in the south of the island. This is a very popular beach, considered one of the most beautiful in India, and not surprisingly, given its two kilometers of white sand that meet a calm and crystalline sea.
Other beaches to see (even if you only stop for a day) are Elephant Beach (20 minutes by boat from Havelock harbor or 40 minutes if you walk), Kalapathar Beach (on the east coast 10 minutes by car/tuk-tuk from the port), and Vijaynagar Beach (located about 40 kilometers from the port).
How To Get To Havelok Island?
Getting to the island of Havelok is very simple. It is sufficient to embark at the Port Blair pier on one of the ferries departing every day and in about 2 hours / 2 and a half hours of navigation you reach the Havelock pier, in the northern part of the island.
Neil Island
Another island to explore during your trip to the Andamans is the small island of Neil, a tropical paradise surrounded by a fascinating coral reef. Compared to Havelok here you will find even more peace and relaxation, and by entering the island, which given its size can be crossed on foot (maximum 6 kilometers from coast to coast) in a couple of hours, you will immerse yourself in rich vegetation and color.
Don't miss the Laxmanpur beach, the best known on the island. It is a long beach of white sand (the largest on the island) which, although it does not offer the perfect conditions for swimming, given the presence of rocks to access the sea, offers wonderful walks and sunsets.
How To Get To Neil Island
Even to reach Neil Island the route is very simple. Just go to the Port Blair pier and take the ferry that will take you to the island of Neil in less than 2 hours. From here, you can move with the classic tuk-tuks, by bike or even by taxi.
Long Island
For lovers of even more exclusive and isolated places, Long Island is the ideal place. This island, located about 90 kilometers from Port Blair, lives in a quiet and relaxed atmosphere, and the few tourists who land on its shores can enjoy a perfectly intact natural paradise; here there is not even a real road, and everything is connected by paths to walk, surrounded by greenery and animated only by the gentle sounds of nature. An atmosphere of unparalleled peace and tranquility, enchanting deserted beaches, and unexplored forests make Long Island a perfect island for travelers with a little (but not too much) of exploration.
Do not miss Lalaji Bay, about 4 kilometers from the port, a picture-perfect beach surrounded by a dense network of coconut palms, ideal for starting with a mask and snorkel and also discovering the underwater beauty. To reach it, you can choose between a 4-kilometer path surrounded by greenery and a short boat ride (to be taken directly to the port).
How To Get To Long Island
To reach Long Island the best choice is to embark on one of the ferries departing from Port Blair and bound for Rangat Island with an intermediate stop on Long Island.
Mahatma Gandhi Marine National Park
The Mahatma Gandhi National Park, located in the southern part of the Andaman Islands, in the Wandoor area, gathers and protects the biodiversity of 15 uninhabited islands and the marine environment that surrounds them.
Among the most evocative places in this protected area, Jolly Buoy Island and Red Skin Island stand out, two havens for snorkeling and diving that absolutely deserve to be visited. To reach the beaches of these islands it is necessary to embark at the Wandoor pier (daily departures with a limited number of visitors).
Baratang Island
Baratang Island is another must-see during a trip to the Andaman Islands; located about 90 kilometers from Port Blair, Baratang Island is famous for its limestone caves, the Limestone Caves, where you can admire large stalactites and stalagmites formed over thousands of years. But it's not just the caves that make the visit interesting; in fact, even the path to reach them, starting from the port, is truly spectacular. You travel on small boats along a canal covered with mangroves so dense that they form an intricate natural tunnel that leaves every traveler speechless.
In the afternoon it is worth going back to the port, take a boat from here to Parrot Island (about half an hour by boat), and wait until sunset on this picturesque island populated by hundreds of colorful parrots.
How To Get To Baratang Island
To reach Baratang Island you can take a bus or a car from Port Blair. The journey takes at least two and a half hours and includes a small ferry route.
Other Places To See
These are the only islands most known and visited by tourists coming to the Andamans, but this archipelago really has a lot to offer. On the Island of Rangat, for example, is the Cuthbert Bay Wildlife Sanctuary, an area famous throughout the Andaman for turtles of different species that come here to lay eggs. On the island of Ross instead, it is possible to catch a glimpse of the Andaman colonial past, admiring what remains of the Penal Colony, a settlement built in the mid-1800s to imprison revolutionaries and rebels against the British Empire.
How To Get To The Andaman Islands
If the description of this beautiful archipelago has fascinated you, at this point, you might be wondering how to get to the Andaman Islands. Well, the most important thing to keep in mind is that the only way to get there is to reach Port Blair by ship or plane, starting exclusively from India. There are no other connections with neighboring Thailand and Burma (Myanmar).
Reach Port Blair By Plane
That said, all you have to do is take a flight from Calcutta (about 2 hours and 10 minutes), Chennai (about 2 hours and 10 minutes) or New Delhi (about 3 and a half hours with a direct flight).
The companies that regularly deal with this route are …
Air India
Jet Airways
Go Air (Indian low-cost)
Spice Jet (another Indian low-cost)
Reach Port Blair By Ship
If you are really intrepid and adventurous tourists (and if you have time to sell), you can choose to reach Port Blair by ship. The connections are infrequent, around ten per month, and the ships take around 50/60 hours of navigation when the weather conditions are favorable.
The ports of departure are three: Calcutta, Chennai (3/4 ships per month per port) and Vishakhapatnam (only one monthly connection).
Chennai: the port from which to depart is that of George Town and the transport service is managed by the Andaman Shipping Office, which will ask you for three copies of the passport (page with nominative data) and your visa.
Calcutta: the starting point is the Kidderpore Dock and the transport is managed by the Shipping Corporation of India. It is best to book your ticket in advance (several days in advance).
When To Go To The Andamans – Climate
The best time to visit the Andaman Islands is during the dry season, between December / January and April; in this period the rains are very few and it is thus possible to fully enjoy the beaches of the archipelago. Possibly to avoid the summer period instead, in which the temperatures remain almost unchanged, but the rains increase exponentially until they become almost daily. The top of the archipelago is in fact of tropical type and in the rainy season, it is not possible to exclude possible cyclones.
Permitted To Visit The Andaman Islands
All foreign tourists must have a tourist visa to enter India. To request it, follow the procedure indicated on the government website.
To visit the Andaman Islands, in addition to the aforementioned visa, it is necessary to obtain a permit called RAP – Restricted Area Permit, which is obtained simply upon arrival (both by ship and by air) from the Indian immigration authorities. The document to be completed is available online on the official tourism website of the Andaman Islands: RAP Form
The duration of the permit is 30 days (and can be extended up to 45 days) and allows access to determine areas of the archipelago (some at any time, others only during the day).
AREAS ACCESSIBLE AT ANY TIME:
All Middle Andaman except the tribal reserve;
All South Andaman except the tribal reserve;
Port Blair municipal area;
Havelock Island;
Long Island;
Neil Island;
Mahatma Gandhi Marine National Park except Boat, Hobday, Twin Islands, Tarmugli, Malay and Pluto (overnight stop with special permission only);
Mayabunder;
Diglipur;
Rangat;
Baratang Island;
North Passage Island;
Little Andaman Island excluding the tribal reserve.
ACCESSIBLE DAY AREAS:
Jolly Buoy;
South Cinque;
Red SkinMount Harriet;
Ross Island;
Barren Island (only allowed to visit by boat, without disembarking);
Narcondam Island;
Interview Island;
Brother Island;
Sister Island;
Madhuban.
The reasons that necessitate this flexibility may vary, but the common denominator is that this need for flexibility can now be addressed by our district outside of the traditional high school setting. This program is designed to accommodate a variety of student needs that may otherwise make success in a traditional setting more difficult.