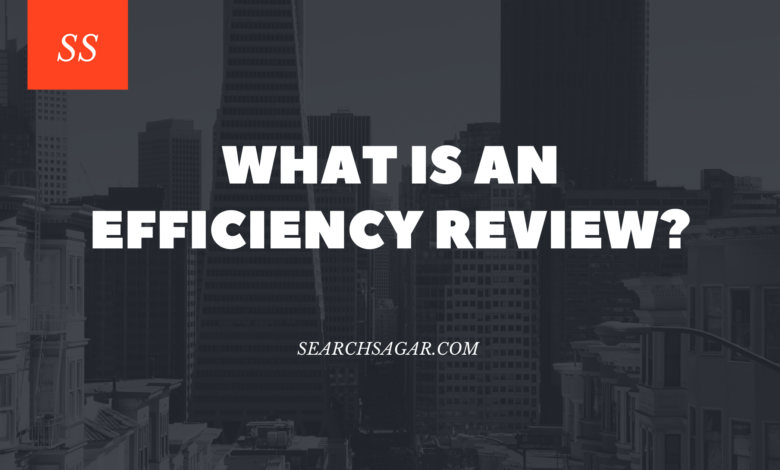 Once a business is set up and set off on its journey, it's likely for the business owner to continue as is, but it's not in the best interest of your business.
Businesses today need to be extra competitive and overly conscious about their performance. Once you have made it past the crucial early stages, you need to review your business' progress and see where it stands among the competition in the market. Without proper analysis, your business won't improve.
So, what to do in such circumstances?
You'll need to carry out a rigorous analysis or a thorough review of your business, known as efficiency review, also known as performance review in some cases. This is done by dedicated teams or departments within the organization or third-party individuals or businesses.
So, let's get into the details of what this review looks like, how it's done, and what the benefits are.
You May Also Like: Supply Chain Management – An Essential Part of Any Business Model
Where to start from?
Efficiency reviews are all about asking questions and looking for their answers. An ideal efficiency review would focus on evaluating your core activities – what you actually do as a business – the product or service you provide.
To start, you need to ask yourself some questions, which include:
Does your product or service meet your customer's demand? However, you will need to be completely aware of what your customers actually want. For that, you have to carry out a thorough customer analysis.
Which products or services are performing well or as expected, and which ones have fallen short of that? You need to have a clear-cut picture of your high-selling and high-profit items or services.
What is the actual problem behind any product/service failure? Dissect it thoroughly and consider its pricing, performance, marketing, and after-sales service. Look for areas that can be improved instantly, giving you room for further development.
Are you doing a regular cost analysis? Have you kept an eye on direct costs, overheads, and your assets? Focus on ways you can reduce the costs, especially by getting better deals with your supplies.
Getting to these questions will put forth the areas you need to focus on, and the answers will lay the basis of your improvement strategy regarding performance and profitability.
What prominent areas should you focus?
New businesses tend to work in a short-term way, without proper policies and practices in play. As a result, they have a reactive approach to every problem or opportunity. This might look good as this approach is flexible, but it can cost you the time to grow and the money for business development.
So, to avoid this loss, the best is to have a clear overall strategy and long-term goals. This will help you make quick and wise decisions with the least loss of time.
If your business goals are not clear, you need to look into some internal factors that might be holding you back from progress. Consider reviewing various aspects of your business that include:
Location
Is your current location suitable for your business?
What are the goods and bad of it?
Does it have the required space for you to grow?
Is there any way to cut your costs by changing your business premises?
Facilities
If you are into manufacturing, do you have the latest equipment?
Does it have the right production capacity?
How does it fare against your competitors'?
Technology
Are you equipped with suitable IT systems and management software?
Can these systems handle any proposed expansion?
Do these systems have an impact on the quality of your product or service?
Do you use the latest networking technology to allow flexible working?
Human Resource and Skills
Is your team the right fit to achieve your goals?
Are they aware of their duties and expected results?
Do they get to learn from training programs?
Do you pay them well?
A decent efficiency review will walk you through these questions and make you identify the weak areas and work on them. Besides the above, another significant business element is "finance," which needs undivided attention.
How to review your financial position?
A business' financial management can be the driving force behind its success or failure. Therefore, it is vital to develop and implement an effective financial plan and management system.
When reviewing a business, updating your original business plan is a good place to start. Besides that, you might want to consider following crucial factors:
Cash flow – this is the balance of all of the money that flows in and out of your business. Make sure that your forecast is regularly reviewed and updated.
Capital – have your business requirements changed? Or, has inflation impacted your buying power? If so, take steps to source additional capital.
Costing – have a close observation of your costs at all times. Ensure that your pricing includes all costs, making sure that you do not bear any unaccounted costs.
Credit – where does the business stand when it comes to credit or loans? Are there any cheaper financial plans available to you? Get your finance executives to analyze your current and forecast scenarios.
Growth – do you have a development or expansion budget that can accommodate your business's growth requirements? Because you will need it at some point.
Al these things are discussed and covered in an efficiency review. These might seem complicated but, there are steps and procedures in place to carry it out.
Steps to complete a review
A typical efficiency review involves the following few steps, which may vary from industry to industry:
Filling the initial questionnaire related to company operations and the product or service by the staff.
Closely observing business operations with the aim to remove excess time or costs.
Providing efficiency review reports with recommendations and corrective action.
Meeting to study the complete report and implementing recommended measures.
Tracking the progress of implementing the recommendations.
Holding follow-up meetings to discuss progress and issues.
What are the Benefits of an Efficiency Review?
Regular efficiency reviews are essential for your business. Following are few notable benefits:
They provide you with an appraisal of how well your business is performing.
They help you identify opportunities to increase revenue and improve performance.
Efficiency reviews help compare your systems and procedures with industry standards.
You are better positioned to identify any significant operational or financial risks to your business.
These reviews set up a framework for you to prioritize the key strategies to improve your overall performance.
You also get to know key players and team members that add value to your organization.
Efficiency studies are actually the diagnostic tools that make the difference when it comes to the growth of your business. So, make sure you make the wise decision of investing your hours and money into it.