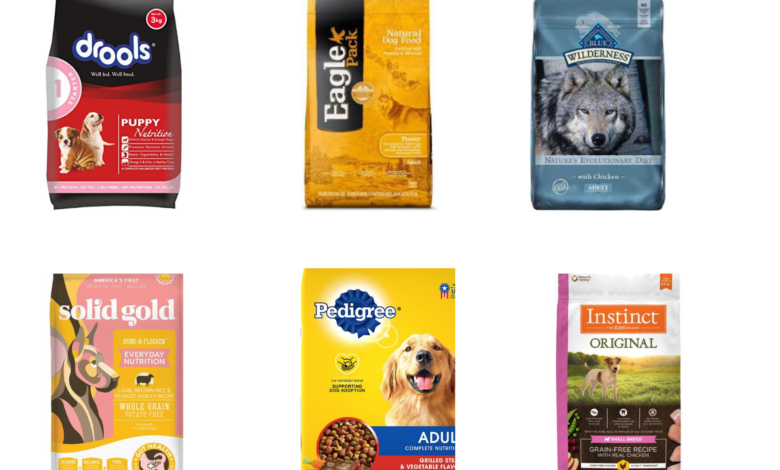 Best dog food brands in India
There was a time when feeding a companion dog simply meant giving it milk and chappatis, or milk and rice. The occasional "treat" meant table scraps that included cookies, bones, and strips of meat.
Fortunately, we've come a long way since the good old days. Today, most dog owners understand and appreciate the importance of giving their baby canines proper and healthy food. The last decade and a half in particular have seen an increase in the popularity of brand-name dog food in India.
In this article, you will find the top 10 dog food in India which is tasty as well as healthy for the dogs. Later, in this post, you will be able to choose which dog food is best. So, let start with 10 top dog food in India.
Also read: 10 Dog Breeds for First Time Owners in 2021
Top 10 dog food Brands in India
1. Himalaya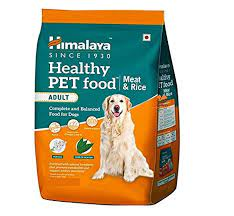 Himalaya Healthy Dog Food packs over 20 nutrients, vitamins, and minerals. While the main ingredient of the food is chicken and rice, it is fortified with herbal and organic ingredients like papaya, black pepper, Popala, Guduchi, etc.
Himalayan products are well known for their superior natural ingredients enriched with herbs and they are no different. Himalaya dog food is one of the best brands of dog food available in India.
Ingredients used for Puppy:
Cereals and grain products, chicken and chicken products, rice, poultry fat, meat, and meat products, vegetable oil, flavor enhancer, calcium phosphate, corn gluten meal, carrot powder, oats (Avena sativa), sodium chloride, choline chloride, papaya (Carica Papaya), vitamins L-threonine, potassium chloride, permitted antioxidants, minerals, zinc sulfate, black pepper (Piper Nigrum) and permitted preservatives.
Ingredients used for Adults:
Cereals and cereal products, rice. Chicken and chicken products, poultry fat, meat and meat products, vegetable oil, a flavor enhancer. carrot powder, Corn gluten meal, sodium chloride, calcium phosphate, choline chloride. Guduchi (Tinoqura Cordifoh'a). Tree of Heaven (Ailanthus Excelsa), Potassium Chloride, Popala (Aerva Lanata), Vitamins. Antioxidants, minerals, zinc sulfate, and authorized preservatives.
Top variants of Himalayan dog food
Himalaya Adult dog food Meat & rice.
Himalaya Adult dog food chicken & rice.
Himalaya Healthy Treat Puppy, Chicken.
Himalaya Puppy dog food Meat & rice.
Himalaya Puppy dog food Chicken & rice.
2. Drools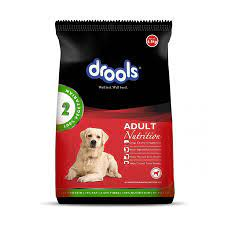 Puppies need a balanced diet, so, the company recognizes this and designed the best dog food in India with high-quality nutrition specially formulated with appropriate protein and fat levels for energy and growth. Real chicken as the first ingredient provides an excellent source of protein. Drools Puppy Chicken and Egg also contains an optimal ratio of omega 6 and omega 3 fatty acids to help your puppy have healthy skin and a beautiful coat. It is free of grain and contains meat. It is the best brands of dog food available in India.
Ingredients used: Chicken, Whole Dried Eggs, Corn, Rice, Wheat, gluten Meal, Fish Oil, Refined soyabean oil, Corn Oil, Lecithin, Essential Amino Acids, Minerals, Vitamins, Salt And Antioxidants.
Top varieties of Drools dog food:
Drools puppy chicken & egg Dry food
Drools Optimum Performance Adult dry food
Drools Focus Adult super dog food
Drools medium Breed puppy, Premium dog food
Drools German shepherd Adult dog food
Drools chicken & egg adult food.
3. Arden Grange

Arden Grange is a European dog food brand that is highly recommended dog food in India. It is the best dog food brand in India. it contains 30% grains in its dog food. This brand contains mostly rice than wheat or corn.
This brand of dog food includes ingredients like eggs, fish oil, beet pulp, etc. Because of this, it comes under the Top 10 dog food brands in India.
Top varieties of Arden Grange dog food:
Arden Grange Adult with fresh lamb & rice
Arden Grange large Breed junior puppy food
Arden Grange puppy large Breed with chicken & rice
Arden Grange mini Adult dog food
Arden Grange prestige adult dog food
4. Royal Canin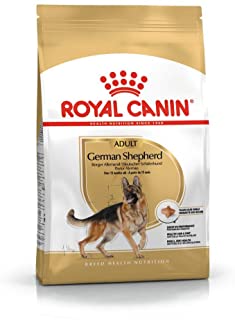 Royal Canin is a french company that is widely accepted in India and it is the best brand of dog food in India. It comes under the top 10 dog food brand in India. It is full of nutrients and very healthy for your dog. The main ingredients are Rice and poultry protein. This brands has dog food based on age-specific formulas.
Top Varieties of Royal Canin dog food
Royal canin Labrador Adult
Royal canin Medium Adult
Royal Canin Hypoallergenic Dog food
Royal Canin Gaint puppy Dry Dog food
Royal Canin Mini Adult Dog Food
5. Acana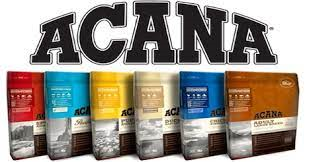 Acana dog food is a Canadian brand that is a premium brand in India. It is an award-winning biologically Natural pet food from freshly made ingredients. It is protein-rich, full of nutritious, and delicious premium food available in India, and made from the best ingredients. Therefore, it includes ingredients such as free-run poultry, nest-laid eggs, wild-caught fish as well as ranch-raised meat.
Top varieties of Acana Dog food:
Acana wild prairie grain free dry dog food
Acana single duck & pear
Acana single Lamb and apple
Acana heritage Free run poultry
Acana Grass fed lamb
6. Fidele

Fidele is a mid-budget brand for dog food. It provides food for both puppies and adults Dogs. The Main 3 ingredients used by the brand are rice, chicken meat, and fish meal. Fidele dog food varieties are available on amazon with all price range. Fidele is a dog food brand in India with varieties of nutrition.
Top varieties of Fidele dog food:
Fidele adult Lamb & chicken
Fidele adult pate chicken canned dog food
Fidele Puppy pate chicken canned dog food
Fidele small breed adult dog sausage chicken
Fidele large puppy food
7. Eukanuba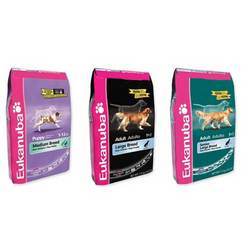 Eukanuba is a top dog food brand in India as it provides the optimal daily amount of protein and fat, vitamins and minerals, and carbohydrates. It is the best dog food brand available in India. This brand is basically for the large breed of dogs. The key ingredients include cornmeal chicken by-products, whole grain sorghum, whole-grain barley, and Dried beet pulp.
Top Varieties of Eukanuba dog food:
Eukanuba adult medium breed dry dog food
Eukanuba puppy growth puppy food
Eukanuba Puppy lamb and rice Dog food
Eukanuba puppy large breed puppy food
Eukanuba Adult large breed dog food
8. Hill's Pet Nutrition


The brand offers dog food for different life stages, breeds, and sizes to meet the nutritional needs of your pet. The company recently launched its latest variation of the Scientific Plan which aims to deliver great taste as well as nutritional benefits. Hill's dog food is also affordable. They have a wide variety of prescription dog food. It is an American dog food company and the best dog food brand available in India.
Top varieties of Hill's pet nutrition dog food:
Hill's Science Diet Adult Sensitive Stomach & Skin, Chicken Meal & Orge Recipe Dry
Hill's Prescription Diet I / D Gastrointestinal Health Dry dog ​​food
Hill's Pet Nutrition Prescription Diet Metabolic Canine Dry Dog Food
Hill's Science Diet Puppy Healthy Development, Small Bites Lamb Meal and Rice Dry Dog Food
Hill's Science Diet Puppy Healthy Development, Chicken Meal Barley Dry Dog Food
9. Wag & love

Wag & love dog food is a top 10 dog food brand in India. It is natural and holistic dry dog food and also grain-free. It contains very high meat i.e. 55% chicken and animal ingredients. This brand of dog food variants takes care of the nutrition of your dog.
Top varieties of Wag & love dog food:
Adult vigor carrot & cranberry dog food
Grain free natural dog food with fresh salmon, mango and basils
Grain free salmon relish all age & breed mango and basils
Grain free puppy bloom large & gaint breed chicken, apple and thyms.
10. Pedigree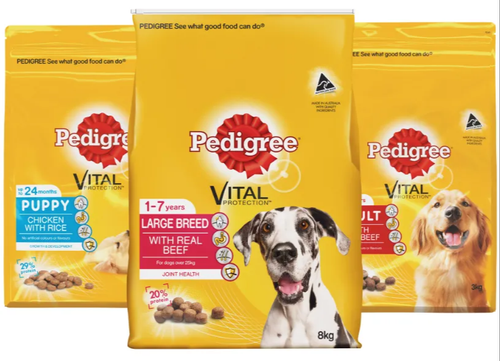 Pedigree is the best dog food brand available in India. It is the cheapest and easily available dog food in India. Pedigree is grain-inclusive dry dog food. It features a special fiber blend to promote healthy digestion. It has varieties of flavors which include lamb, chicken, fish, and turkey.
Top varieties of pedigree dog food
Pedigree high protein beef and lamb flavour dry dog food
Pedigree Adult dry dog food, chicken and vegetable
Pedigree Adult roasted chicken, rice and vegetable flavour
Pedigree puppy wet dog food, chicken, egg and rice
Pedigree Big dogs roasted chicken, rice and vegetable.
Types of Dog food in India
Dog food in India is available in different varieties. Therefore, it is very important to choose the correct varieties that meet the complete nutrition needs of your dogs. So, here we provide you with different types of dog foods…..
Canned
Most of the dogs love canned or wet food as it is easy to take and has a long self-life and also you can find easily on any supermarket. It is very expensive and not everyone can afford it. Most wet or canned food contains 75% of water. If you have decided to give canned food to your dog, it is best to go with that food labeled 100% nutritionally complete.
Dry
Dry food is an economical type of food and because of this many dog owners choose this food for their dogs. It lasts for a long time and does not need to refrigerate it. Dry food can keep your dog teeth healthy and also chewing dry food reduces the chances of tartar buildup. While choosing dry food, read all the ingredients carefully and choose that food that is full of nutrition.
Home-cooked
Some dog owners appreciate the power to possess full control over their dog's diet. A homemade diet allows the owner to understand needless to say what's in everything their dog is eating and to be absolutely sure that their nutritional needs are being met. If you opt to offer your dog a homemade diet, familiarize yourself with canine nutrition to form sure your dog isn't missing any essential nutrients. Feeding a dog homemade food is very expensive and time-consuming but it will keep your dog healthy.
Semi-moist
Semi-moist foods are less nutritional and it contains many artificial flavor and coloring. Commercial dog food is shaped like pork chops, burgers, or other food meals. You can give semi-moist food occasionally to your dog as it contains less nutrition.
Raw
Raw dog food contains raw meat, with some bones and organs mixed. This type of dog food works with many dogs, as dogs have small intestine and strong stomach acids because of which they can digest easily. Before switching to raw food consult your veterinarian for the benefits and risks.
Buying Dog food Brands online in India
If you want the best dog food brand in India then search online. It is easy to find the best dog food online. There are varieties of dog food brands available online i.e pedigree, Drools, Wag & love, Hill's pet nutrition, etc. With online stores, you can find different sizes of dog brands. So, the choices are endless. And also there is an advantage of online buying that you can compare the ingredients between various dog food brands and choose accordingly.
If you are shopping online how can you forget about discounts? While online shopping you can get heavy discounts on dog food brands without burning a hole in your pocket.
Do's and Dont's for dog food
| | |
| --- | --- |
| Do's | Dont's |
| Plenty of fresh clean water for your dog | Feed a lot of treats |
| Clean Bowl for food and water | Try not to give chocolates to dogs |
| Leave your dog alone when he is eating | Don't overfill your dog's bowl |
| Always Use a feeding guide | Don't give human food snacks |
| Read instructions carefully before feeding | Try to avoid highly processed dog food |
| The right diet should be fed to your dog | |
Frequently Asked Questions
Q1. What kind of food should I feed my dog?
It is important to take into account different variables such as age, race, body composition, gender (including whether he is sterilized or not), temperament and activity level. In general, however, eating a healthy diet with high-quality ingredients will benefit your dog. To feed your dogs use the best dog food brand available in India.
Q2. Is dry food better than wet food?
Dry dog ​​food has definite benefits. It is easier to store and serve. It also has less odor and is less likely to spoil when left in the dog's bowl. Wet dog food can be beneficial for dogs who need to increase their water intake. When in doubt, always ask your veterinarian. Whether you use dry food or wet food remember to use the best dog food in India.
Q3. Which dog food brand is best in India?
It usually depends on the nutritional requirements of your dogs. Always try to consult a veterinary doctor before giving any kind of food or if you want to find the best food. There are many cheap dog food in India.
Q4. Can I mix dry food with canned food?
Mixing wet and dry foods is not recommended, especially if you are giving your dog a special diet. Always consult your veterinarian for advice on the best diet choice for your dog.
Also Read: Find Out 17 Awesome Gifts for Pets