SEO
Secret SEO tips and tricks to Outgrow your Competitors (White-Hat Methods)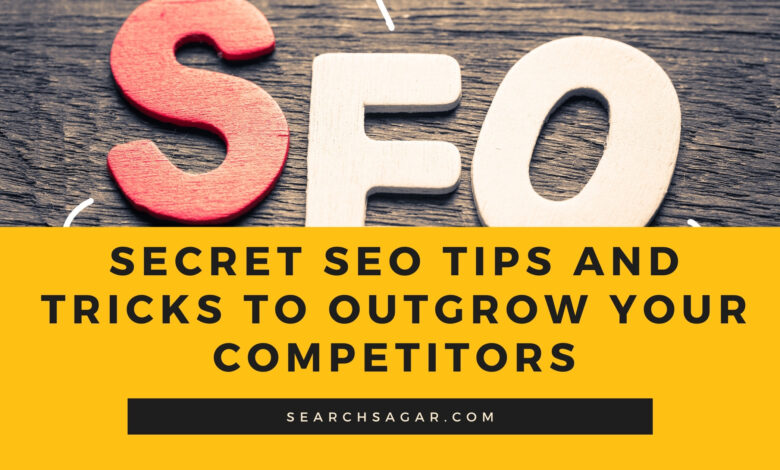 Do you often wonder, you are doing everything you were taught in the SEO course but still cannot outrank your competitors?
I will tell you some secret SEO tips and tricks that you can implement to outgrow your competitors.
Don't worry. All of them are safe (In other words, Google-approved SEO strategies)
This is something which you don't do because no one told you about them.
Let's get started
Secret SEO Tip# 01: Image SEO
You must be wondering why I have written Image SEO because it's basic SEO. Everybody knows this.
I have written it because you are doing it wrong.
Let me explain:
You downloaded an image from any royalty-free site such as unsplash or pixabay. Whenever you download a picture, its name is usually some random number. You download it, compress it and then upload it to your website.
You are doing it wrong.
This way, your picture will never get on the top of Google.
Here's what you need to do.
Download images from royalty-free sites.
Go to Tinyjpg.com or Tinypng.com to compress your image size for fast loading.
Download the compressed image.
Please don't use it yet.
First, rename it.
Remove the original random name and use your keywords.
For example, I am writing a blog on "Secret SEO tips and tricks."
I will rename that stock image as secret-seo-tips-tricks
Did you notice that I didn't use spaces? I used Hyphens. It's because Google doesn't understand spaces; that's why you can see only hyphens throughout all the URLs on the internet to separate words.
Why do this?
Whenever you upload a picture, Google reads its name. Having a keyword there will surely rank that image for that keyword, giving you more chance to rank the whole blog post.
How to make it better?
If you have a long title and you are adding a featured image. You should rename the image the same as your SEO title, but avoid using STOPPING WORDS.
What are Stopping Words?
Stop words are used all the time, whether online or in the real world. These articles, prepositions, and phrases help us form complete, coherent sentences from keywords.
Why skip them?
Because Google doesn't read them.
That's why if you have noticed, I didn't write "and" while renaming the image.
Pronouns, articles, prepositions, and conjunctions are the most common SEO stop words. This includes such words as a, an, the, and, for, or, but, in, my, your, our, and their.
SECRET SEO Tip # 02: Use Ahref Webmaster Tool for Free
Use Ahref for free? You must be wondering if I am joking.
I am not.
As you may know, Ahref is one of the best premium SEO tools out there. Its basic plan starts from $99/month, which is relatively expensive if you are just a newbie.
Here is how you can use Ahref for Free of cost.
When you have verified yourself as an owner, you will access many of the Ahref features for free.
This is a great way for you to start doing the SEO the right way if you are starting up.
SECRET SEO Tip # 03: How Google Knows which content belongs to the Same Author
If an author continuously links to their Twitter account, for example, that will help Google recognize they're the same entity behind multiple author pages.
SECRET SEO TIP # 04: Remove Pages with Zero Value
You may not know, but having unnecessary pages with zero value can harm your website.
How can you remove them?
Go to the top pages of your website using Google Console or Ahrefs Webmaster and delete the pages that don't have any value.
This way, all of your link juice from your backlink will be transferred to the pages that are already adding value to your website.
SECRET SEO Trick # 05: Find Relevant Domains using Google Advanced Operator
If you don't know about the Google Advanced Operator, these are a few words that you can use to get a more precise result from google according to your need.
There are many Google operators. You can check out the whole list here: Google Search Operators: The Complete List.
To find the relevant domains, you have to use this operator,
inurl:*keyword.com
Uses
Find a good niche instantly

Finding websites for guest posting

Find relevant expired domains
Use inurl:*advisors.com to find all the websites that have health in their domains. It's better than site: since it brings slashes(-) in the domain names.
SECRET SEO Trick # 06: Always Get Backlinks from the Websites that Gets Traffic
The future of link building is only getting backlinks receiving traffic from Google, indicating that Google favors such sites.
Because most PBNs are not traffic-driving, Google can easily detect them, and they can be penalized for that.
Use SimilarWeb to find out how much traffic a site is getting.
SECRET SEO Trick # 07: Use Google Trends to Find Untapped Opportunities
Google Trends is one of the best methods to get the idea, write on, trend, etc.
Uses
It helps in title selection. You can find out which keyword is being searched the most in each country.
Finding hot areas to rank your keyword. Helpful for local SEO companies. You can see where the competition is less competitive.

Finding the keywords that you think are more popular but they are not. People are now more interested in buying a gaming PC than a gaming laptop in the USA.
Key Takeaways
SEO is changing day by day. Google is becoming smarter and smarter and those outdated methods like blog commenting, social media bookmarking, etc., don't add that much value as they used to do before.
They still work, but the future of link building is Guest Posting. It's the most difficult one, but it is the safest and adds the most value among all.
Do you have any tricks of your own? Jump into the comments and share it with everybody reading this blog.
In the future, I will surely add more and more tricks and secret SEO techniques. Feel free to contact me with any questions.
If you have any comments, write them down.