Technology
Pro and Cons Of Some Well Known CMS Softwares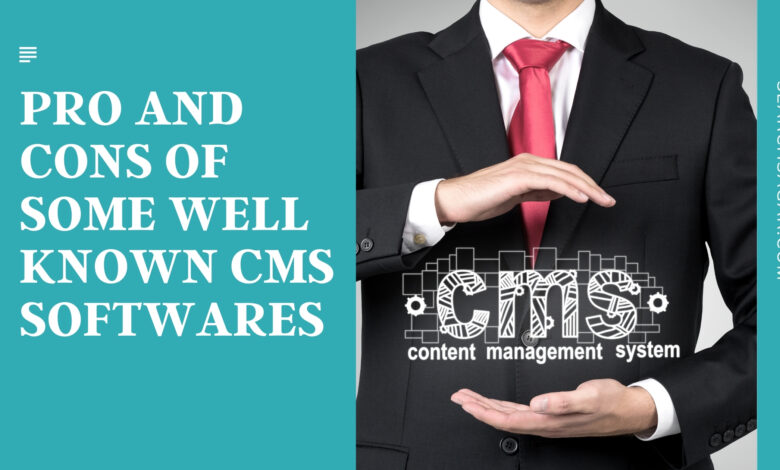 The content management system, also known as CMS software, is designed to let you create, manage, save, publish, and output information online. ECommerce CMS is a content management system (CMS) that deals with the eCommerce part of an online store. Trading and commerce activities have moved to the platform due to advancements in software engineering. If the eCommerce aspects of CMS pique your interest, continue reading to learn more about this technology. We also provide a comparison of three eCommerce platforms, providing their benefits and pros. We'll compare Shopify, WooCommerce, and Magento as eCommerce CMS.
If you plan to develop an e-store using any of the technologies listed, reaching out to a website design agency near you can also be beneficial.
The Clientele
More than half a million people utilize the Shopify eCommerce CMS platform. In the last few years, it has increased significantly. Magento CMS has a market share of around a quarter of a million users. Their platform focuses more on enterprise-level businesses and less on small and medium-sized businesses. The WooCommerce CMS system has a user base of millions of people. It is simply more convenient to develop a WordPress and Woocommerce website. However, it's important to note that the user base for top-searched websites differs from the customer base described above. Magento is the platform with the most top ten thousand websites. Following that, WooCommerce is ranked second, and Shopify is ranked third.
Because it entails creating e-stores in the three technologies listed above, the customer base of all of the above platforms is frequently dependent on eCommerce Web Development.
Magento 2
With its new Magento 2.3.4 edition, Magento eCommerce CMS is leading the market. They offer two different sorts of systems. The first is a cloud-based enterprise solution, while the second is an on-premise enterprise solution. They also have an open-source version that is widely used.
Magento is the greatest platform for constructing e-stores when compared to the other two e-commerce CMS platforms. As a result, Magento-based eCommerce Web Development can assist you in establishing a secure online store.
Make use of Shopify
Shopify is a well-known eCommerce CMS platform with a large customer base. In the last few years, the use of this platform has increased dramatically. The platform is constantly leading as a market leader. Shopify is well-known for its customer-to-business eCommerce. It is attracting the interest of larger corporations. The platform's SaaS approach makes it cost-effective. Since the Shopify program is licensed to the user and most people can access it via the web.
If you want to personalize the look and feel of your Shopify web store, you may hire a website design firm to reach you get the best results.
WooCommerce (WooCommerce):
WooCommerce is a content management system (CMS) that is installed in WordPress. It's a plugin for WordPress. As a result, it is safe to conclude that it is not a standalone platform. It is, instead, an add-on. WordPress is a widely used content management system (CMS). WooCommerce has become the most user-friendly eCommerce CMS technology Because it can be installed into any WordPress website. WooCommerce is a good fit for any online store with much content but little eCommerce.
To add functionality to your WooCommerce online store, you may need eCommerce Web Development services.
Well-known brands:
All of the technologies mentioned are associated with well-known companies. They do not, however, frequently provide a platform for any of the major brand websites. They are most commonly used in developing individual storefronts or small sections of a website for some of the world's most well-known companies. Magento is also well-known for producing the most primary eCommerce brand sites.
As a well-known brand franchise store owner, you might hire a website design firm to reach an online web franchise.
Earned Profits:
Magento is the most popular eCommerce CMS. Shopify eCommerce CMS, on the other hand, is following in its footsteps. The WooCommerce eCommerce CMS may also have a higher ranking, although this is yet to be determined. The majority of WooCommerce sites are small. As a result, determining an estimate for this platform that can demonstrate its advantage over the prior two platforms is difficult.
All of the profits generated by the three eCommerce CMS technologies can be boosted by eCommerce Web Development, which allows you to add tools to your online web stores to boost sales.
Pros
Each of the technologies listed above has numerous advantages. WooCommerce has the advantage of being easily integrated with WordPress, the most widely used content management system (CMS) on the internet. Magento's eCommerce CMS solutions are the most configurable. Shopify outperforms the competition by being the only eCommerce CMS platform that does not require any maintenance.
Drawbacks
Magento eCommerce CMS is difficult to master, and developing solutions usually necessitates a large sum of money. Shopify is an example of a SaaS-based technology that requires monthly technologies for apps. It has a small number of fundamental characteristics. You can always develop more features to it, but this will necessitate eCommerce web development. WooCommerce CMS is a WordPress plugin that can be used to create a complete eCommerce CMS platform. When it comes to making a high number of sales and handling complexity, this limits it.