Education
How To Become an IPS Officer After 12th?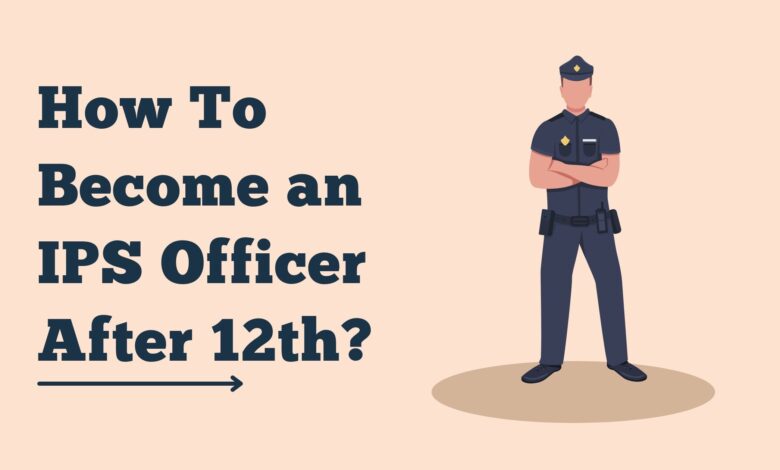 A question arises in our mind: How to become an IPS officer after 12th and land the most prestigious post of a police officer in India. As we all know, many candidates have taken the IPS exam every year, but only a few of them have been recruited. How to become an IPS officer After 12th it is more searchable by students because after completing the 10th / 12th standard studies, students from all fields (Arts / Commerce / Sciences) want to choose the best career path.
Have you completed the 12th standard? Do you want to become an IPS Officer? If so, this article will help you. Here you will read about the topic – "How to become an IPS officer after the 12th?".
How and Where to Begin after the 12th for IPS?
To become an IPS Officer, you must take the UPSC Annual Exam. For the purposes of this article, there are three phases: preliminary, main, and Interview. But you must first qualify to fill out the form. Eligibility is 21 years old, Indian citizenship, and postgraduate.
Only after successfully completing the three stages of the UPSC exam will you be able to become an IPS officer and be part of the elite service. Right after the 12th board, you can capture any stream of interest. It can be the arts, commerce, science, and anything else.
However, if you are firm in your decision to become part of the Indian Police Service, it is best to choose the disciplines that are part of the UPSC program. These topics are:
History (up to 12th standard)
Sciences (up to 10th)
Political Science (up to 12th)
Geography (up to 12th)
Economics (up to 12th)
Optional Subjects
These are the main issues and beneath them, there are several other issues that you should be aware of. For example, environmental studies, security, cybersecurity, disaster management, world history, ancient history, international relations, etc.
This is why you may find that many students choose humanities and also one of these disciplines. This will help you with the main exams, where you will be required to take written tests 3-4 days in a row, morning and evening.
IPS Eligibility
Given below are the UPSC eligibility criteria for the Indian Police Service (IPS):
IPS Age Limit
| | | |
| --- | --- | --- |
| Category | Age Limit | Number of attempts |
| General | 32 years | 7 |
| OBC | 35 years | 9 |
| SC/ST | 37 years | No limit |
IPS Qualification
Candidates who are graduates from a recognized university, or in the final year of their course, are eligible to appear in the Civil Services Examination.
Physical Standards
| | | |
| --- | --- | --- |
| Attribute | Male | Female |
| Height | 165 cm | 150 cm |
| Height (for ST, Gorkhas, Assamese, Kumaonis, Nagaland) | 160 cm | 145 cm |
| Chest girth fully expanded | 84 cm | 79 cm |
| Expansion | 5 cm | 5 cm |
Number of Attempts
| | |
| --- | --- |
| Category | Number of Attempts  |
| General | EWS | 6 |
| OBC | 9 |
| SC/ST | No restriction |
| Physically Handicapped (General & EWS) | 9 |
| Physically Handicapped (OBC) | 9 |
| Physically Handicapped (SC/ST) | No restriction |
Applicants in the general category may have a total of six attempts to pass the civil service exam. There is a certain relaxation in this regard for those who fall into categories eligible for booking. However, regardless of the category, failure of the preliminary examination counts as an attempt.
IPS Exam Syllabus
The civil service examination consists of three parts: a preliminary written examination and the main examination followed by an interview. Those who pass all three stages become eligible for IPS recruitment, provided they pass the medical test. This is done the day after the interview.
The preliminary exam is usually scheduled for June, while the main exam takes place in September.
But for now, It may have changed due to COVID-19.
IPS examination pattern — What to study to become an IPS officer After 12th?
The Preliminary Examination consists of two papers –
(1) the General Ability Test (GAT)
(2) the Civil Services Aptitude Test (CSAT)
Both have multiple-choice questions that need to be answered within two hours. Each test is 400 points.
The main exam has nine papers in all. The first two, English and language (the candidate's choice of one of the languages listed in Annex Eight of the Constitution) are again of qualifying nature. Therefore, guaranteed marks are not added to the grand total.
The other papers are:
S. No

Paper

Marks

Topic

1
Paper-I – Essay: Candidates required to write two essays from a list of topics
250
The subjects will be given, which will be in accord with the subject in question.

Applicants are encouraged to organize their ideas in a concise and orderly manner.

2
Paper-II – General Studies
250

Indian Heritage and Culture
World History
World and Indian Geography
Social Issues

3
Paper-III – General Studies – II
250

Governance
Constitution
Political System
Social Justice
International Relations

4.
Paper-IV – General Studies – III
250

Technology
Indian Economy
Biodiversity
Environment
Security

5.
Paper-V – General Studies – IV
250

Ethics
Integrity
Administrative Aptitude

6.
Paper-VI – Optional Paper – I
250
The subjects will be decided according to the optional subject chosen
7.
Paper-VII – Optional Paper-II
250
The subjects will be decided according to the optional subject chosen
IPS Interview Pattern
Candidates who qualify in the Mains are invited to the interview, which is worth 275 points. It aims to assess the personality and temperament of the candidate. The marks obtained during the interview are added to those obtained for the written exam. A panel usually made up of six eminent figures from different fields, headed by a president, asks candidates a series of questions. As there is no fixed format for the interview, questions can be of any kind – straightforward or complicated – and on any topic.
However, the responses must demonstrate the candidate's originality, agility, honesty, patience, commitment and presence of mind. Sense of humor is an added bonus. The interview can last between 45 minutes and an hour.
It should be noted here that, depending on the candidate's ranking and preference, they will receive the IPS quota.
Conclusion:
TO BECOME AN IPS AFTER 12TH: IS IT POSSIBLE?
It is not possible to become an IPS agent right after completing the 12th standard!
To become an IPS officer, you must register for the CSE exam organized by UPSC. You must also interrupt the exam (preliminary, main, and interview) to be selected for training.
The basic eligibility criteria required to participate in this exam are: Applicant must have a graduate degree from a recognized university/institute!
So technically, students who passed 12th grade cannot appear on this exam right after 12th grade. After completing the 12th, they must first complete their diploma. After successfully completing the study program, they can make an attempt and become an IPS agent later!