Technology
HIGH END 3 IN 1 WIRELESS CHARGER FOR YOUR IOS AND ANDROID DEVICES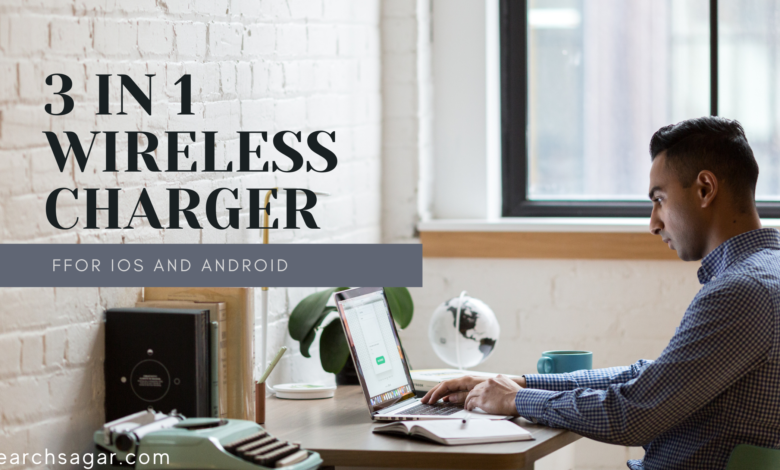 Your smartphone's battery is almost empty – and the charging cable is in use again somewhere by someone. With wireless charging, you don't have to worry anymore – you can use it to charge your mobile device wirelessly. Wireless charging for smartphones has been around for some time now and is wildly becoming a new standard for charging your smartphone and smart devices. With ever-increasing smart accessories with your phone that also need a wireless charger and to organize everything together, we present you our list of high-end 3 in 1 wireless chargers.
A significant advantage of wireless charging is its simplicity for the user. You don't have to search for the cable for a long time, connect it to the smartphone, place the mobile phone on the appropriate charging point, and charge the battery. It means there is no wear and tear on the smartphone's plug contact or on the charger itself. More and more charging cradles offer space for several devices at the same time. The days of slow wireless charging are also gone, and you can supercharge your device in far less time.
To know more about wireless chargers, stay with us here as we bring you our list of top 5 high-end 3 in 1 wireless charger.
TOP 5 HIGH END 3 IN 1 WIRELESS CHARGER
WAITIEE Wireless Charger 3 in 1, 15W Fast Charging Station for Apple iWatch Series 5/4/3/2/1, AirPods, Compatible with iPhone 11 Series/XS MAX/XR/XS/X/8/8 Plus/Samsung (Black)
Are you tired of tangled charging cables for your smart devices and want a high end 3 in 1 wireless charger? Then you are at the right place because we have a WAITEE Wireless charger under 50$ for your phone, smartwatch, and wireless headphones. WAITEE is a dedicated wireless charger manufacturer and specializes in all-in-one charging devices.
Out of the box, this cute little gizmo will catch your eye, and you will fall in love with its design. It has a horizontal base with a wireless headphone dock. The bottom has anti-slip silicone support to keep your phone from falling. And a vertical stand for your phone with a side protruding port for your smartwatch. (Packaging does not contain cable and magnetic charger for a smartwatch)
You can charge your phone both horizontally and vertically. As the charging dock for your phone is angled, you can make a call or watch your favorite video while it juices up the batteries. Apart from charging, this device can be used as an organizer and keep the tangled wire mess away from your desktop.
This high-end 3 in 1 wireless charger has universal compatibility and can charge all Apple, Android, and Huawei devices. Its charging distance is 8mm max. It also supports fast charging with 7.5W fast charging for iPhones, 15W fast charging for Huawei smartphones, and 10W fast charging for Samsung devices. Other phones which support wireless charging can use 5W of power.  
The built-in safety features are a lifesaver, or we can say a device saver. This wireless charger under 50$ has voltage and current surge protection. As it provides a stable charging current and voltage for your phone, watch, or ear pods. It also has built-in overheating protection.
This high-end 3 in 1 wireless charger has overcharge protection and will shut off when your devices are fully charged. As we know, it works by the principle of electromagnetic induction. And with lots of other electronic devices around, it will detect any foreign objects on or near the device. 
Pros Cons
Supports fast charging No built-in wireless charging for smartwatches
Power Surge Protection                                 
Universal compatibility
Quezqa Wireless Charging Stand – 3 in 1 Fast Wireless Charger – Qi Charging Station Dock Compatible with AirPods Pro Apple Watch SE 6 5 4 3 2 iPhone 12 11 Pro Max Xs X Xr 8(with QC3.0 Adapter)
If you face trouble with your wireless charger that is slow as a snail, it's time for an upgrade. The Quezqa ultrafast wireless charging stand is here for you as an upgrade choice. Quezqa is a wireless charging manufacturer that found its roots out of necessity to build a better wire-free charging solution. The high-end 3 in 1 wireless charger stand has a Qi certification.
The Quezqa wireless charging stand is a gift for iPhone lovers because it has a built-in charging dock for their Apple watch and air pods. It also supports Android devices, Huawei phones, and some older Microsoft smartphones. The Samsung earbuds are also supported and other Qi-supported devices as well. You can also charge your phone through its case.
The Quezqa high-end 3 in 1 wireless charging stand comes in box packaging along with a QC 3.0 18 Watt charging brick, a USB Type-C cable, and a user manual. This U-shaped charging pad has a base with anti-slip pads for safety and a built-in charging station for air pods. The phone charging dock is vertical with an angle to use your phone while charging, and the top has a built-in charging dock for the Apple watch.
With the help of a dual coil design, you can get fast charging up to 10W for your phone, 5W for your Apple watch, and 3W for your air pods or air dots. In total, that is 18W of supercharging simultaneously, which is done by an 18 W power adapter specifically designed to deliver fast charging. You can charge your phone up to 35-40 times faster with this high end 3 in 1 wireless charger stand.
Along with charging your multiple smart devices, you can also use this high end 3 in 1 wireless charger stand as an organizer on your desktop. Say goodbye to a wired mess, and not only will it free up on your desktop, but it will also look stylish and organized. 
With the advance, safety features the Quezqa charging stand is one of the best wireless chargers for under 50$. The base of the charger comes equipped with anti-slip pads that prevent any accidental fall. Another intelligent feature is the temperature control, for which the back of the stand has sufficient ventilation. Other safety features include power surge protection and overcharge protection. 
Pros Cons
18W fast charging Apple watch upgrade might be needed for proper charging
Built-in apple watch charger 
Universal support
Qi certification
3 in 1 Wireless Charging Station for Phone, Watch & Headphones – Wireless Charger Compatible with Apple Products – Fast Wireless Charging
Keep your smart devices fully charged with a WIMO wireless charger. You can use it at your home, office, or when traveling; this high end 3 in 1 wireless charger is made for you. You can charge your phone, smartwatch, and your wireless headphones. With a 15W fast charging capacity, you no longer have to wait for hours to get your devices charged. With this high-end 3 in 1 wireless charging station, you can have an innovative and practical accessory for less than 50$.
This wireless charging station comes in packaging with a power adapter and a cable connecter. The flat base of the charging station is compact and makes it ideal for traveling and desktop use, and it weighs only 240 grams. 
You can use a circular phone charging dock vertically and horizontally with the tilt option. The smartwatch and air pod charging port are integrated to make it more efficient and organized. It is also designed to take up less space due to its slim dimensions and ease to carry.
The WIMO high-end 3 in 1 wireless charger station is compatible with Apple products such as iPhone 8 and above, air pods one and above, and Apple Watch 1 and above. It is also compatible with other Qi-supported Android phones. Along with charging, you can always use this wireless charger for under 50$ as an organizer on your desktop and car for your devices.
This 3 in 1 wireless charger under 50$supports fast charging and can churn out 15W of power. Thanks to its massive induction coil, you can place your device horizontal or vertical. The Ideal for Apple products, this fast charger can charge your phone wirelessly with 5-10W of power. For air pods, it gives an output of 3W and 2W for the Apple watch. Make sure to remove any thick phone cases as you might encounter charging difficulty.
Some built-in safety features prevent any damage to your phone. Along with fast charging, this device has short circuit protection. In case of any power surge, this wireless charger will protect your phone as it has voltage and current surge control.  
Heating up during charging can be dangerous, and this device keeps everything from overheating by innovative venting. Overcharging your battery can shorten its life. But you don't have to worry as there is overcharge protection which will turn off when devices are charged.
Pros Cons
Fast charging Cannot charge through thick phone cases
Portability
Built-in apple watch charger
Built-in safety features
HATALKIN 3 in 1 Wireless Charging Station Compatible with Apple Products Multiple Devices Apple Watch SE 6 5 4 3 2 AirPods Pro/2 iPhone 12/11/Pro Max/X/XS/XR/8 Plus QI Fast Wireless Charger Stand Dock
Have you got your wireless charger that can charge your iPhone, air pods, and apple watch? If no then we have a high end 3 in 1 wireless charger for you. The HATALKIN charging station is your solution to charge three devices at the same time. With fast charging and portable design, this is one of the best wireless chargers for under 50$. 
You will receive the HATALKIN wireless charger for under 50$in in attractive box packaging along with a USB Type C Cable, a QC 3.0 power adapter, and a user manual. The charging station is collapsible and consists of a base with a charging doc for air pods and a vertical dock for phone and Apple watch. The assembled charging station measures 4.3 inches high, and the base measures 2.7 X 5.5 inches.
Due to its quad coil design, the HATAKLIN Wireless charger can produce a total output power of 22W. The input power is 9V/2A through a Quick Charge or QC3.0 power adapter. The power output is divided between 4 induction coils, two for the phone and one for the smartwatch and earphones.
Its output for iPhone is rated at 7.5W, Apple watch and air pods at 5W. The power output for Samsung and other Qi-supported phones is higher at 10W, and other wireless earbuds are 5W. Make sure you use a slim phone case for better charging and keep any metal or magnetic readable cards away, or you might render them useless.
If we look at the compatibility, this high end 3 in 1 wireless charger has universal support as it has Qi certification. It can charge a wide range of Apple Samsung and other Qi-certified phones and Air pods or wireless earbuds. The only downside of this device is that Samsung watches are not compatible with it.
The safety features on the HATAKLIN high-end 3 in 1 wireless charger are a lifesaver. It has a power surge protector that ensures no short circuits or increased voltage or current damage. The overheating protection keeps your device cool while charging, and the overcharge protector keeps your battery safe when it's completely charged.
Pros Cons
Superfast charging Doesn't support Samsung watches
Collapsible design
Built-in Apple watch and air pod charging
Built-in safety features
Intoval Wireless Charger, 3 in 1 Charger for iPhone/iWatch/Airpods, Qi-Certified Charging Station for iPhone 12/11/Pro/Max/XS/Max/XR/XS/X, iWatch 6/SE/5/4/3/2, Airpods Pro/2/1 (Z5, White)
The INTOVAL or Innovation to Value has brought you a uniquely designed wireless charger to charge your Apple products and Qi-certified smartphones. Its Universal compatibility and fast charging make it the most desired wireless charger under 50$, which is, in actual words, innovation at an affordable value.
The Intoval wireless charger comes included in packaging with an 18W power adapter, a power cable, and a service card. You can also enjoy a one-year replacement or refund warranty which makes it a safe purchase. 
Out of the box, the charging station has a sleek design with a slim base and an angled phone and apple watch charging dock. The air pod dock has a charging pin in case it's an older model. You can also use it as an organizer as it relieves you from the cables.
In the fast charging department, this wireless charger under 50$ has a maximum power output of 18W. There are three magnetic induction coils for efficient charging where two are reserved for phone and one for Apple watches. The iPhones can be charges at 7.5W, while other phones get 10W of fast charging. For the Apple Watch, you get 3W of power and 2W for the air pods. Remember to use thin phone cases for effective charging and proper positioning of your phone.
The Intoval high-end 3 in 1 wireless charger is compatible with iPhone 8 and above and with any Qi-certified smartphone. You can charge Apple watch S2 and above while all air pods are compatible with it.
Its safety features include overcharge protection, foreign object detection, radiation shield, and temperature control to keep everything cool.
Pros Cons
Fast charging Not compatible with other smartwatches
Universal phone support Not compatible with different earbuds
Dedicated Apple Watch charger
Replace and refund warranty
Qi certification