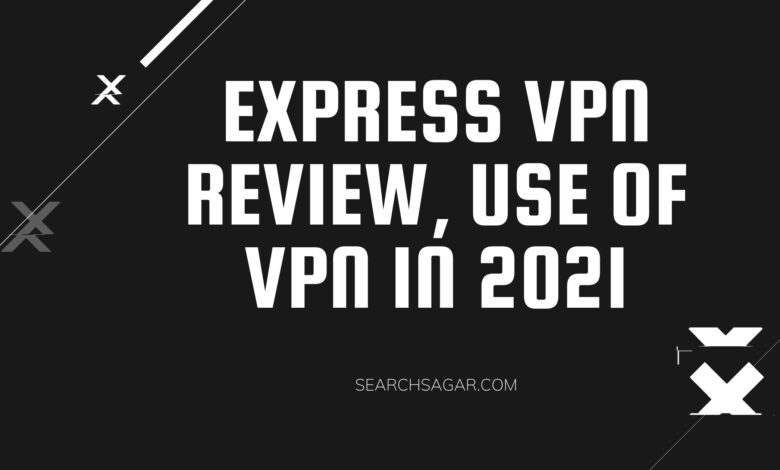 In a world of surveillance capitalism, where you, yourself, is the product, a VPN must be in your toolkit. A VPN will protect your data from exploitation. This article will go in-depth on Express VPN review, the pros and cons, and if it is worth your money.
Expressvpn got a lot of appraisals. So, is it really worth it?
What does express VPN have to offer that others lack?
These are the question we will try to answer.
Why
Do I Need A VPN?
VPN is a service that allows your ip address to be masked and encrypts all your data by bouncing your network activity through a secure chain to other servers. This way, your actual location is not exposed even on public networks, so you have the luxury to use safe and secure internet anonymously.
Businesses typically need a VPN to give remote employees access to internal applications and data; this ensures confidentiality and data integrity within the business environment. VPN is also used to create a single shared location between different locations. VPN's role in the business environment is to prevent web traffic and personal data from being exposed on the open internet.
Many of our favorite applications are guilty of using our personal data without our consent. Facebook is a prime example that has been called out recently by congress. A VPN will restrict applications from monitoring your user data, location, and ip address.
Many of your favorite shows and programs may be unavailable because the content is not provided in your location. VPN is a great workaround; it helps spoof your location.
Finally, VPN is totally legal, and you are in your right to use it, so Yes, you most definitely need a VPN.
You May Also Like: How to Get Hotstar VIP & Premium Membership for Free?
ExpressVPN Summary
ExpressVPN is one of the few VPNs out there that can redeem itself as a genuine allrounder. While other VPNs like Private Internet Access have failed to bypass the china firewall ( making it unusable in china) or even unlock Hulu, expressVpn has shown remarkable progress in this regard. It is impossible to find a more advanced and secure VPN while keeping the user experience intuitive and user-friendly.
Speed
Speed is one of the most important factors when it comes to choosing a VPN. Express VPN, due to its backend technology, is the fastest VPN we have ever tested. I will not go into the technical details, but in short, express VPN uses a proprietary protocol called lightway instead of the more common Wireguard protocol. This gives ExpressVPN a comparative advantage over other VPNs, and in different tests, ExpressVPN is twice or at times even three times faster than other VPNs. Across all locations and times tested, ExpressVPN averaged a whopping 135 Mbps download speed, which is by far the highest among other top-class VPNs.
Servers across North America, Asia, and Europe were tested with a negligible difference.
Location
It is also important to emphasize that ExpressVPN is headquartered in the British Virgin Islands. The UK is a privacy-friendly nation. The government has no data agreement; moreover, ExpressVPN privacy policy explicitly mentions not having any log of your data, making it more reliable.
Privacy
A VPN company with low ratings may monetize user data. ExpressVPN fully respects data integrity and does not compromise privacy.
Ease of use
Using a VPN can be daunting for a non-technical person. But, ExpressVPN does a great job making the user interface intuitive and easy to use. There should be no problem in downloading the app for your preferred platform, mac windows, or mobile devices; ExpressVpn has an app. After opening the app, you will be prompted to enter an activation code you get after purchasing the license for ExpressVpn. There is no username or password, just the code, and you are good to go.
Using ExpressVPN is essentially straightforward; there is a big on/off button you press to get started; for advanced users, you can change protocols with the setting as well. ExpressVPN has recently undergone a design overhaul, now showing details of the server in its interface.
Streaming Netflix or Hulu
Does ExpressVPN work with Netflix and HULU?
The answer is a resounding YES!
This is not true for many front-line VPNs. While ExpressVPN works flawlessly even when Netflix and HULU block VPN users.
Each country has its very own Netflix library. ExpressVPN can unblock Netflix versions in the UK, Japan, and Canada, as well as other countries.
ExpressVPN not only unblocks Netflix but also a variety of region-blocked streaming sites such as:
It is possible to reach out to customer service to inquire about which servers can be used with streaming services.
Support for Torrenting
ExpressVPN is not like other VPN providers that push me to torrent on certain servers. There is no restriction on which servers can be downloaded, making downloading files from torrent a walk in the park.
File Sharing via P2P is permitted and well protected. A Kill switch locks the network and stops all internet traffic. This means that your P2P traffic will be encrypted regardless of what. Mobile apps have a kill switch that is simpler than the network lock.
Does ExpressVPN work in China?
YES!
China is a country that strictly restricts access to many websites and web servers. VPN providers find it challenging to master china due to the political differences, but ExpressVPN works just as well in China. You don't have to tweak any setting or anything; it just works. But maintaining a VPN that can bypass the great wall of china is a difficult job in itself, and ExpressVPN gets full marks for its effort.
Conclusion
Needless to say, ExpressVPN is by far the complete VPNs out there. It has an excellent set of features with a beautiful and intuitive design system. It unlocks video-on-demand services and does not monetize users by selling their personal data; in fact, ExpressVPN is one of the only VPN services that do not keep logs of your data. ExpressVPN is also the fastest VPN out there, and it works in China as well. There is currently no other VPN that does all this, and without any shadow of a doubt, EXPRESSVPN is the best all-around VPN service out there. Period.