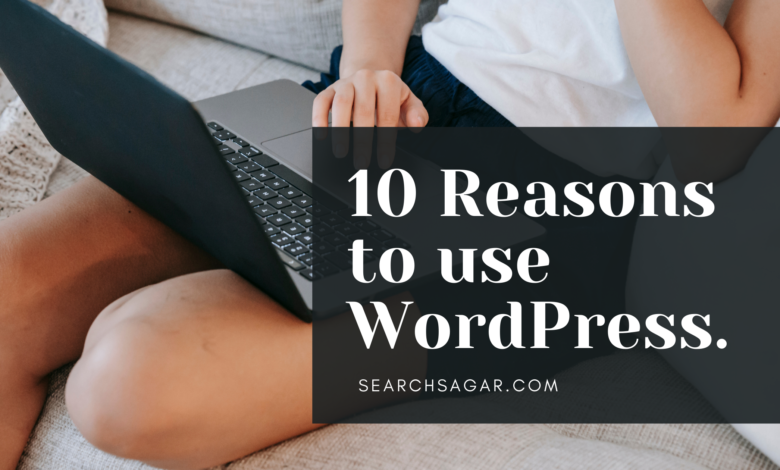 More than 74 million websites of all kinds and sizes use WordPress to publish new content every second. Did you know that 26% of all Internet websites run on WordPress? This content management system has quickly become a favorite of users and beginners because it is simple but effective. If you plan to have a website, you really should use WordPress to make a small business website.
If you're still thinking, "Why use WordPress?" You are in the right place. Taking this question into account means that you've at least studied WordPress or heard from a friend or colleague. However, I'm sure you have thoroughly weighed all the pros and cons or have carefully inspected its features.
Therefore, we want to describe the benefits of using WordPress and give you a clear idea of ​​why it is the world's most popular content management system(CMS) and website creation software. WordPress can do almost anything!
1. It doesn't cost anything to use
It doesn't matter whether it's a business blog or a personal blog. The fact that it doesn't charge a penny is the primary motivation for using it. It doesn't charge if your website isn't getting more traffic than you expected. Not only is WordPress free, it's open-source, which means you can change or improve this source to see how you'd like to customize the functionality or look of your website! It's hard to compete with the WordPress developer community worldwide, constantly improving it 24 hours a day, seven days a week.
2. WordPress is Easy to Setup and Maintain
Creating a website with WordPress sounds much harder than it is. You don't have to be a programmer or know HTML basics to create your own WP website. It is as user-friendly as possible. You don't have to be able to design to create a website. Templates are here to help you. There are many WordPress themes and plugins. It turns out that everything is already taken care of and all you have to do is choose the theme that best suits your needs and your product. Isn't that amazing?
3. WordPress suppliers? Not a problem!
When you use WordPress, you find that you will never be tied to a particular service provider again. You will never have to face a similar hostage situation where your website is being developed with a unique custom system, and you cannot move it to another service provider. It gives you access to a virtually unlimited number of developers.
4. WordPress is Easy to Customize
For those who are non-technical, WordPress is the perfect solution, as there are thousands of free website templates (themes) to choose from. It is an ideal solution for almost any website (blog, corporate website, or online store).
Its themes are easy to navigate as many of them have their selection bar that lets you change colors, upload a logo, change the background, create beautiful sliders, and customize them to suit your needs without writing any code.
WordPress plugins are like programs on your site that allow you to add more advanced features such as analysis, contact forms, memberships, FAQs through the WordPress FAQ plugin, and more. As with any topic, there are thousands of free, high-quality add-ons available to you.
5. WordPress is a Great Blogging Tool
It is a blogging platform, and there are no better tools for creating and maintaining your blog. You can log in and publish articles from anywhere with an internet connection. There are also plenty of tools out there that you can use to post blog posts directly to social media!
6. WordPress is SEO Friendly
WordPress is written in code that meets high-quality standards and creates semantic markup. Frankly, this is why Google and other search engines love WordPress. As a result, CMS websites tend to rank higher in search engines. It is exceptionally SEO-friendly in terms of ranking. You can also use WordPress SEO plugins to optimize your site further.
7. Secure and safe
WordPress's popularity is of interest to potential hackers. Another reason it is so popular is because of the security measures that developers take to maintain user trust. Its employees are constantly updating the CMS with plugins that integrate into it. Of course, users should be careful and only download plugins from trusted sources, preferably when logged directly into CMS.
8. WordPress has an extensive support community
One significant thing is a support system. Suppose you have problems using a particular additive or are unsure what to do. In that case, all other users may already be experiencing the same issue and, therefore, know the doctor for your pain.
It usually maintains the support community. There are many forums and websites out there where you can ask questions and listen carefully to the professional advice of your colleagues around the world.
9. It Can Handle Different Media Types
WordPress is not limited to writing text. It has a built-in media uploader for managing pictures, audio, and video. It supports websites with oEmbed, which means you can embed YouTube videos, Instagram photos, tweets, and Soundcloud audio by simply pasting the URL into WordPress Editor.
10. IT is a powerhouse
A website that works for all browsers is excellent. The two most popular browsers are Internet Explorer and Mozilla Firefox. WordPress themes are designed to make your website look great in any browser.
If you use WordPress to launch your business website, the various e-commerce solutions available are in good hands. You always have an option to turn your website into an online store with popular plugins like WooCommerce
It is open-minded enough to accept an open connection. Yes, there are no special obligations with hosting. If you're fed up with your old hosting provider, or if they "act like you can't accept them", you almost have the right to switch to another host, and WP won't hold your hand. Last but not least, since WordPress is easy to use and runs like open source software, you save yourself the hassle of hiring website professionals and designers.